Posting aesthetic photos of delicious food to social media has become widespread among Generation Z, the first generation to grow up with social media. Born between 1995-2015, Gen Z-ers are the leading creators of food content on social media content, whether it's a dedicated restaurant review YouTube channel or an Instagram account consisting of photos of melty grilled cheese sandwiches.
As more Generation Z consumers are turning to snacking, we set out to learn more about their snacking habits and preferences. Our State of Generation Z Snacking survey asked a representative sample of over 2,500 U.S. Gen Z consumers, ages 13-24, questions about their snacking opinions, preferences and habits, including how often they upload food content to social media. Our study found that while the majority of Generation Z-ers rarely post food photos on social media, a sizeable amount are dedicated "foodstagrammers"﹣13%  share what they're eating on social media occasionally and 5% share on a frequent basis.
Demographic-wise, Gen Z foodstagrammers are mostly female (62%) ages 22-24 years old. Compared to the overall Gen Z population, they are 31% more likely to be of Hispanic/Latino ethnicity, and 36% more likely to be African American. 37% of foodstagrammers reside in urban areas, compared to just 29% of overall Generation Z-ers in our survey. In terms of geolocation, foodstagrammers are 12% more likely to be from the Northeastern and Western U.S., and 18% less likely to be from the Midwest.
As our survey focused on Generation Z snacking habits, we gathered hundreds of data points on over 80 snack brands. Our data found that certain snack brands were especially popular among foodstagrammers compared to the overall Gen Z population. These brands include Takis (+28%), Nutter Butters (+20%), Teddy Grahams (+32%), Dove chocolate (+19%) and Rice Krispie Treats (+24%)
When it comes to what attributes they prefer in snack brands, foodstagrammers are 30% more like to value a brand that reflects their personality or beliefs and 22% more likely to value snack brands they view as exciting and fun, compared to the general Gen Z population. Foodstagrammers care less about the product variety offered by snack brands, with a 10% decrease in valuing variety compared to the overall Gen Z-er.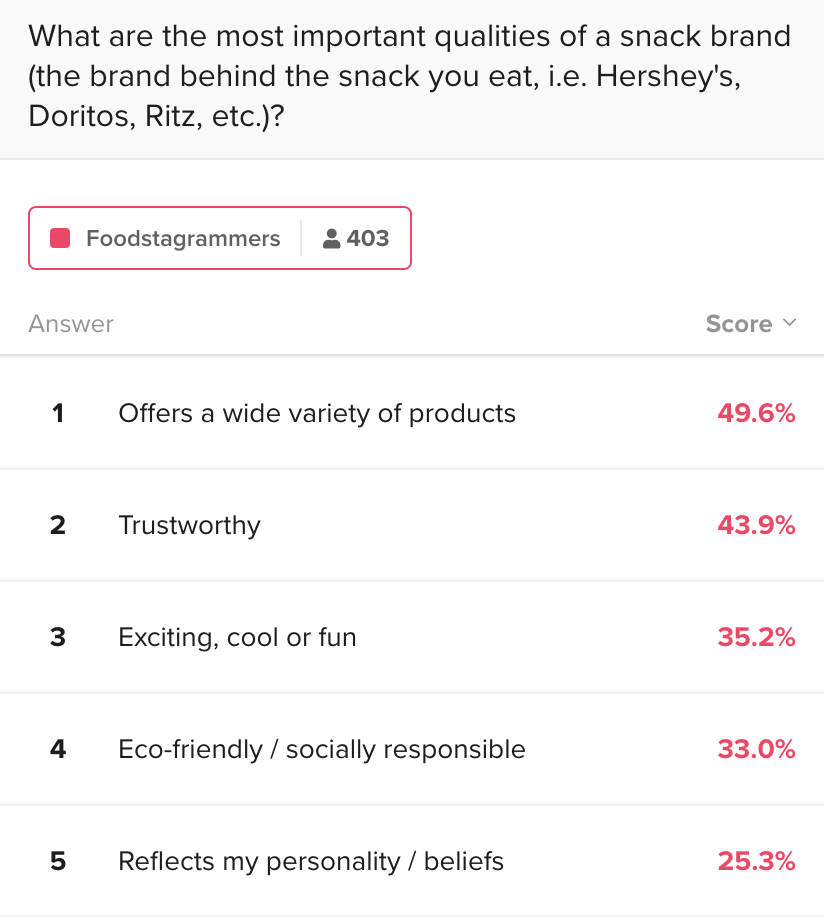 ---
By segmenting Generation Z according to their social media usage and habits, brands can get a true understanding of those Gen Z-ers who are generating content pertaining to their brand or industry. 18% of Generation Z-ers are "foodstagrammers", sharing what they eat with their social media followers on a frequent or occasional basis. Food brands should pay attention to the unique traits and behaviors of content-generating Gen Z-ers, as they are increasingly influential.