This is the 3rd insights digest of Segmanta's Moms in Asia 2020 study. We piloted the research in 9 Asian geographies to find out what motherhood means to moms globally and how their lives are affected by it.
For years, Segmanta has been working with brands in the baby care sector, researching what moms need, want and wish they had for their babies/young children, as well as to provide marketers with fresh customer insights. With rapidly growing cooperation with brands, we believe it would be of significant value to apply Segmanta's experience with baby care and to study how motherhood impacts their lives, what purchasing behaviors moms have and which marketing strategies are the most effective for brands to engage mothers in the emerging markets. We carried out a comprehensive survey in 9 regions in Asia to ask new moms about their motherhood experience, social media usage, buying behaviors and so forth. Over 11,000 moms across the regions completed our survey.
No one is 100% prepared for motherhood. Naturally, digital-savvy mothers turn to the internet for help. How brands engage with moms, in terms of content and outreach marketing is the main focus for today's baby care marketers.
New moms read the most essential motherhood topics online
Pediatric health is the most widely read topic (63%) according to the surveyed moms. Accessing health tips from medical professionals online is helpful to relieve moms' anxiety. The majority (48%) of all moms said "Concern for child's wellbeing" was the biggest challenge in motherhood. The second most popular topic is "Baby/kid products & brands", said more than half (56%) of the moms in the survey. 70% of the brand-related content readers are Malaysian moms. The online medical content covers subjects like healthy baby food recipes, insightful baby development training tips, suitable exercises for mothers, etc. "Parenting methods and philosophies" was also listed by 50% of the respondents as the top content category they consume online, including 80% of the Taiwanese moms amidst the readers.
Our survey indicates that 73% of Asian moms make purchasing decisions in the household. According to research, authentic, relatable content, parenting influencers are the main reasons moms choose certain brands. The mothers also tend to purchase based on recommendations or social media posts from people they know. Brands should utilize social media as a prior approach to influence the mothers' brand perception and further convert them into customers.
They want more than just the brand homepage
The moms revealed the main reasons they follow baby/kid brands or products on social media. Roughly, 1 in 2 Asian moms seeks fun content and tips online while 1 in 3 follows new product updates. 38% of the moms claimed they follow the brands with an overall positive reputation.
Brands' like Pampers's homepage doubles up as a knowledge hub for moms, offering diverse parenting tools and advice, engaging quizzes, new product releases and beyond. Baby/kid brands should aim at creating extra value for the customers by leveraging the brand homepage to resonate with the audience. Thus, the customers build up more trust and loyalty towards the brand and can attain a sense of community. Additionally, Gen Z and Millennial moms want to establish an emotional connection with the brands and express their identities as individuals. The emotional factor, as a new measurement of success, motivates brands to go the extra mile not only to promote their products but also to make the mothers feel they are cared for.
They increase social media usage as a distraction from motherhood
Social media has become popular for Millennials and has surged in the era for Gen Zers. Other than Facebook, the most popular social media platforms are Instagram, WhatsApp, and YouTube according to our respondents. Asian moms exchange motherhood knowledge from various content sources on these social media platforms. We picked out the highest social media platform usage by country: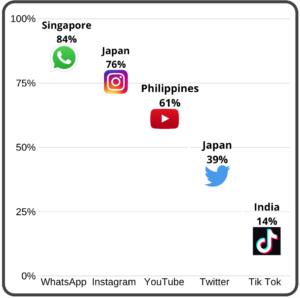 The frequent post updates, clever parenting "hacks", adorable baby pics in the family group chat, hilarious motherhood memes are a great distraction from dealing with a fuzzy, non-verbal, and demanding baby. Research shows that the usage of social media increases when motherhood starts. Sharing pictures of the babies, reading posts from fellow moms, researching baby products on social media has generated tremendous benefits for the moms as well as for the brands.
For marketers, understanding what content creates the greatest value for the moms and which platforms the moms are using are critical. The surveyed moms consist of 70% of Millennials and 14% of Gen Zers. Their attention span is within 8-12 seconds. Seizing the opportunity to attract busy moms with personalized brand messages, optimizing ad reach/frequency, and improving the content quality will significantly boost customer conversion.
They are active followers of baby/kid product and brands online 
Out of the numerous reasons moms follow baby products online, more than half of the moms love fun content and motherhood tips. Around 39% are interested in the brands with a positive reputation and new product release. More than half (55%) of the Asian moms follow baby food and supplements brands on social media. Baby toiletry products (47%) and toys(41%) are the second most popular. 34% of the respondents are interested in famtech products online. Moms who only have infants at home are 38% more likely to follow baby tech products on social media, compared to the moms with only 2-3 yrs old. Younger babies require more care and protection, which explains why the famtech products are in higher demand among new moms and families with infants. Geographically, Japanese moms are the least likely to be brand/product-followers on social media while moms from mainland China and Taiwan tend to be more active followers of baby brands/products.
Online media is ubiquitous and reflective of consumers' interests. Meanwhile, social media is the platform to express culture, to communicate emotions, as well as to exchange knowledge. With increased screen time, mothers are more digitally reachable after motherhood begins. Tracing the moms' digital footprints is rather informative for marketers to establish a holistic profile of the moms' media consumption, attitude towards brands and product demands. To further optimize audience targeting strategy and brand media mix, the marketers should focus on finding suitable online channels, generating content that resonates with the audience, working with parenting influencers to deliver brand messages that "keep it real" and feel personal to moms.