Generation Z is the generation with the largest spending power of an estimated $143 billion annually. Gen Z is transforming most industries, among them the snacking industry. In order to learn more about their snacking habits, we conducted a survey among 2,500 Gen Z-ers ages 13-24 years in the U.S.
Recent studies show that in the U.S., 58% of Gen Z adults report deep unhappiness with their eating habits. By the same token, other studies show that Gen Z consumers are more health-conscious than their predecessors, the Millennials. Recognizing the diversity of Generation Z, we segmented our survey respondents by the various reasons why they snack.
According to our study, 36% of Generation Z are "emotional snackers", reporting that negative emotions such as stress, anxiety, and sadness are drivers that lead them to snack.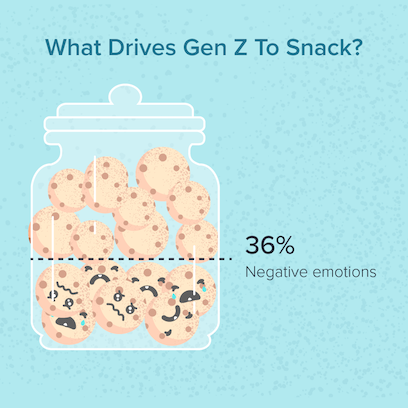 So who are these Gen Z emotional snackers? According to our survey:
---
Notable demographic and behavioral patterns exist among emotional snackers. Gen Z's emotional snackers are overwhelmingly younger females who are frequent snackers that prefer intense flavors and are quick to snack for reasons such as boredom and accessibility, instead of for health considerations.
Successful snacking brands need to recognize that Gen Z is widely diverse, and that snacking motivations and behaviors vary greatly by individual. Segmenting Gen Z snackers according to underlying motivations (negative emotions, satisfying hunger, etc.) gives brands a true understanding of their target audience, and enables highly effective growth strategies such as personalization.