The beauty industry has transformed more in the past few years than it has in the past few decades combined. Within today's dynamic landscape, the beauty industry exemplifies all that's changed - the rise of social media, demand for personalization, shift towards brand authenticity and the emergence of smaller, niche brands. In short, the beauty industry is largely shifting towards consumer-centric experiences.
For brands to be truly consumer-centric, they need to understand who today's consumers are and what drives them. To get more insight, we surveyed 3,134 women in the United States, asking about their makeup habits, brand preferences and reasoning behind their makeup purchases.
For convenience purposes, we refer to brands as mainstream if they are ranked in the Top 50 most valuable cosmetics brands according to Brand Finance. Examples of mainstream brands include Estée Lauder, L'Oreal and Revlon. We refer to brands as niche if they are smaller and targeted towards specific demographic groups. Niche brands can belong to a larger company; for example, Urban Decay belongs to L'Oreal.
1. Consumers who use makeup from niche brands tend to spend more money on makeup.
Click the View Analytics button above to open our live interactive dashboard where you can view, analyze and share the full survey results.
Consumers who use lesser known, niche makeup brands such as SauceBox, Zoeva, and Colourpop Cosmetics, report that they tend to spend more money on makeup compared to consumers who go for more mainstream brands such as L'Oreal and Revlon. Generally, niche consumers are passionate when it comes to makeup, wearing it more often and using more types of cosmetic products.

2. Consumers who use makeup from mainstream brands tend to refrain from brand switching.
Although they tend to spend less money on cosmetics, mainstream brand users are more likely to stick with the same brand across all product types. However, brand loyalty may not be the main reason why. When asked what their favorite brand of makeup is, mainstream consumers were more likely to state that they do not have a preferred brand of makeup, indicating that their lack of brand switching may not necessarily translate into brand loyalty or enthusiasm. Further research should be done to confirm whether mainstream makeup consumers do not switch brands as frequently due to brand loyalty or habit buying (repeated purchases of a brand due to lack of dissatisfaction).  
3. Consumers who use makeup from niche brands are more likely to use beauty boxes and AI tools
Niche consumers are more likely to use innovative methods and cutting-edge technologies to experiment with new makeup brands and products. Compared to mainstream brand users, niche users tend to subscribe to beauty boxes such as Birchbox and Ipsy, and are more likely to use virtual try-on makeup apps such as Sephora Skincare & Beauty and Youcam Perfect.
4. Effective social media content is largely dependent on the consumer age group.
For many brands, traditional advertising has largely been replaced by consumer generated content on social media. Our survey found deep correlations between the age of consumers and the type of social media content that they found most persuasive when it comes to makeup purchasing decisions.
Gen Z-ers (consumers ages 13-25) were most likely to point to content created by makeup artists as most impacting their purchase decision (38%).

40% of Millennials between the ages of 26-34 pointed to content posted by friends and family as most likely to affect their decisions.

36.5% of consumers over the age of 35, Gen X and Baby Boomers, were most likely to answer that social media had no impact on their makeup purchase habits.  
5. Out of the four major brands, Maybelline consumers are most likely to switch their brand of makeup due to higher perceived quality.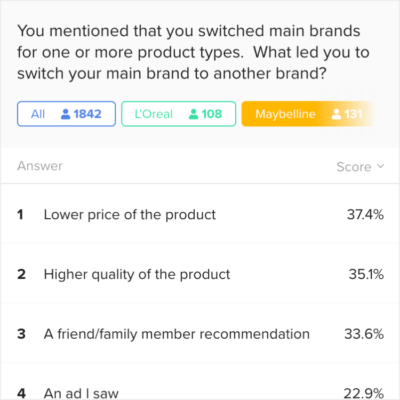 In comparison to other big makeup brands (L'Oreal, Covergirl and Revlon), Maybelline users who made a brand switch in the past year were most likely to have done so because of perceived higher quality. In fact, 35% of Maybelline consumers mentioned that higher quality was the reason for their switch compared to 25%, 27% and 30% of L'Oreal, Covergirl and Revlon consumers, respectively.
6. Covergirl consumers are more likely to change the brand of makeup they use due to a competitor's lower prices.
Covergirl users who had switched their primary brand for any makeup product (eye shadow, lipstick, etc.) were more likely to have done so because they found a cheaper price elsewhere. 51% of recent Covergirl consumers cited a lower price point as a reason why they switched makeup brands in the past year. In contrast, 40% of L'Oreal users and 37% of Maybelline users cited price as the reason why they made the switch.
7. Maybelline is the most popular brand among frequent users of makeup, while Covergirl is the most popular brand among infrequent makeup users.
53% of frequent makeup users, defined as consumers who use makeup at least once per day, have used Maybelline products in the past month. Among infrequent makeup users or those who use makeup only on rare occasions, this number drops to 31.3%. Infrequent makeup users are more likely (39%) to use Covergirl instead during the rare instances in which they do apply makeup.
A Final Note
To check out more insights from this survey, head over to the full and interactive results here.
Given the rapid shifts in the beauty industry, truly understanding consumers is a greater, more complex challenge than ever before. Therefore, it is crucial for brands to not only understand their consumers' behaviors in depth, but to understand the driving forces behind those behaviors as well.
While market research is essential for brands to grow, it doesn't have to be time consuming or require the work of a researcher. With powerful and professional tools, Segmanta's DIY survey platform lets anyone, regardless of role or analytical experience, uncover granular consumer insights in a fraction of the time.
Want to get a better understanding of your consumers? Start your free trial now or visit our website for more information.